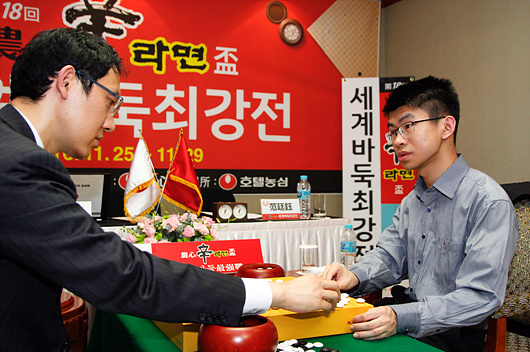 Pan Yingyu 9P won 5 games in a row as he defeats Kono Lin 9P from Japan by resign with white today.
His record to win 5 games in a row is same as top record in Nongsim cup and there are only 5 players until now who achieved it. Hu Yaoyu, Lee Changho, Peng Chuan, Kang Dognyun and Xie He are those.
Song Taegon 9P commented that Pan 9P got better position as he lived easily when Kono Lin 9P made big shage and Pan 9P managed the game well without severly being attacked. This is not Kono Lin 9P's mistake, but Pan Tingyu 9P showed a perfect game.
From Korea, Kim Jisuk 9P is ready to defeat Pan Tingyu 9P, It is so important moment as China is leading this year a lot, and somebody need to stop him.