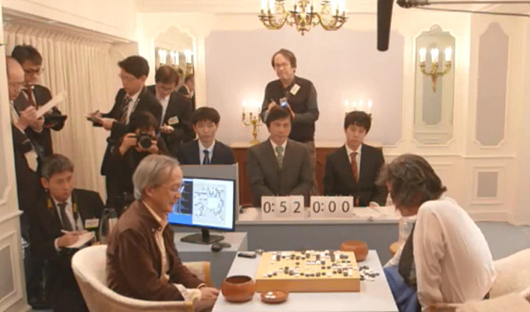 Cho Chihun 9P had no way but to see his group was killing by DeepZenGo in the end. Deep ZenGo won against Cho Chihun 9P by resign with black in the second game and made the score by 1 to 1.
In the first variation, both players satisfied with their own status. After that, DeepZenGo made attack to Cho 9P's weak group step by step and killed them all finally.
Cho 9P regreted that he played such heavy moves trying to live all.
Cho 9P said in the interview that my goal was to win 3 games but it was pity to be 1 to 1. I really feel like playing with human, I should agree DeepZenGo is really strong and find good moves which human hardly imagine.
Dakao Shinji 9P commented that DeepZenGo's strenght was showing well during the game, Its reading skill is good in the fights. And I could find its flexibility which is totally different with human.
The final match will be continued on 23th.