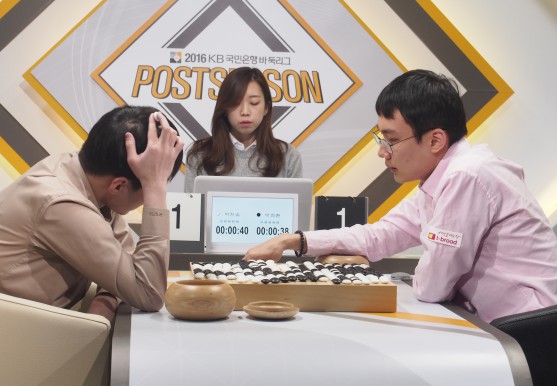 2016 KB Baduk league, first round of playoff
Tbroad won agianst Jungghanjang by 3 to 2
In the first day, Tbroad team was behind by losing 2 games but they won all three games and won the first match.
Park Junghwan and Park Mingyu had very difficult game but won each agianst Park Jinsol and Kim Myounghun. And the finish came from Kang Yutak 7P who has a lot of experiences in big games. Kang 7P showed a perfect game agianst Lee Changho 9P from Jungghanjang team and decided Tbroad's win.
This result shows why the experience in big matches is so important. Jungghangjang team had so many oppurtunities to win, but they missed all and deep frustration. Anyway they should get ready for next round.
Tbroad 3 vs 2 Jungghanjang
Lee Donghun (x) vs Han Seongjoo (o)
Kim Seongjae (x) vs Shin Jinseo (o)
Park Mingyu (o) vs Kim Myunghun (x)
Park Junghwan (o) vs Park Jinsol (x)
Kang Yutak (o) vs Lee Changho (x)