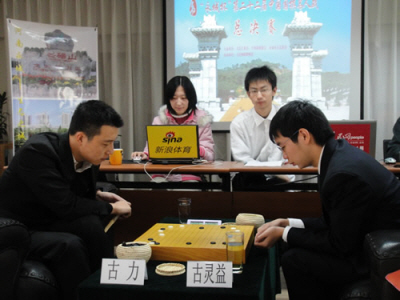 In the final game 2 of the 22nd Chinese Mingren Title held on Dec. 22nd in Beijing China, Gu Li 9p (black) defeated Gu Lingyi 5p by resignation after 243 moves and tied the best-of-5 final.
As Gu Li 9p began a counterattack in the Mingren title best-of-5 final, Gu Li is leading in their career records against each other by 6-4. Gu Li won the Mingren title for 5 consecutive years as he defeated Piao Wen Yao at the last Mingren final by 3-2.
The game 3, 4 and 5 will take place in Henan on Jan. 5th, 7th and 8th.
The Mingren title is sponsored by Peopleó«?s Daily and 3 hours and 60 seconds overtime counting for 5 times are given to each player. The prize for the winner is 100,000 yuan and the prize for the runner-up is 50,000 yuan. Ma Xiao Chun has the record of winning the title for 13 consecutive years from the 2nd Mingren to the 14th Mingren.
- Kyungdong Kim, Cyberoro.com