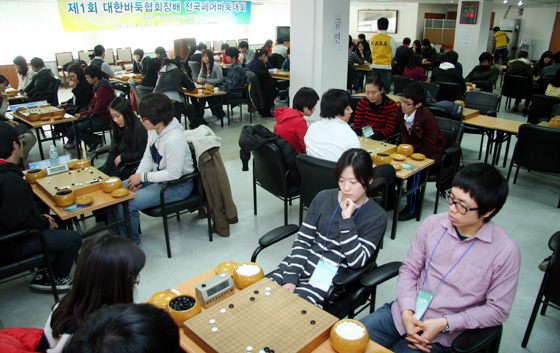 The 1st Korea Amateur Baduk Association Cup Pair Baduk Competition was held in Korea Baduk Association on Dec. 28th. The competition was divided into the Strongest Pro Division, General Amateur Division, Middle and High School Division and Elementary School Division and it was progressed as both the tournament and the Swiss league.
In the Strongest Pro Division, progressed up to the tournament 2nd round of the top 26, it was a big upset when Kang Manwoo-Moon Dowan team defeated the top contender, Ahn Dalhoon-Jo Hyeyeon team and Kang Changbae-Kim Hyelim team defeated the winner of BC Card Cup Pair Baduk Competition winner, Choi Chulhan-Yoon Jihee team.
The round of the top 8, semifinal and final will be held on Dec. 29th and you can watch the semifinal and final games broadcasted live in Wbaduk Game Rooms.
- Sangwoo Kim, Cyberoro.com