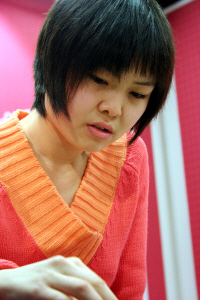 The game 10 and the last game of the 2nd phase of the 8th Jeongganjang World Female Baduk Championship held in the Baduk TV Studio of Korea Baduk Association at 2pm on Dec. 25th, Song Rong Hui 5p of China (white) defeated Mukai Chiaki 3p of Japan by 4.5 points.
The six-consecutive-game winner of last term Song Rong Hui, holding the record for the most consecutive victories, lived up to the expectation from her first game at the contest.
Her skills to defeat Mukai Chiaki 3p who has similar style of play to Song Rong Hui╳?s, after trailing behind most of time and turning the game around in the endgame, was excellent.
The commentator Seo Bongsoo 9p for live Internet broadcasting gave a general review by saying, ╳﹉Mukai Chiaki 3p was leading in the beginning but the cause of defeat was that she handled the situation in the middle game too easily.
Song Rong Hui 5p╳?s abilities of taking care of a situation in the middle game and doing endgames at the closing stage are outstanding.╳▽
On the other hand, as Korean team did not make up much for the records of the 1st phase (losing 2 games out of 2) by winning only 2 games of the 2nd phase, they are driven to a dead end. So far both Korean team and Japanese team have only one player left, Park Jieun 9p of Korea and Suzuki Ayumi 4p of Japan. However, Chinese team still has tree players left, Song Rong Hui 5p, Li He 2p and Ye Gui 5p.
The 3rd phase will take place in Guangzhou from Feb. 1st to Feb. 4th, 2010.
╳身Representative Players of Each Country
-Korea: Park Jieun 9P, Kim Hyeoimin 5P, Park Sohyun 2P, Yoon Jihee 3P, Kim Yoonyoung 1P
-China: Ye Gui 5P, Song Rong Hui 5P, Li He 2P, Cao Youyin 3P, Wang Chen Xing 2P
-Japan: Suzuki Ayumi 4P, Mukai Chiaki 3P, Aoki Kikuyo 8P, Yoshida Mika 8P, Umezawa yukari 5P,
Jeongganjang Cup World Female Baduk Championship is supervised by World Cyber Kiwon Co., Ltd, managed by Korea Baduk Association and sponsored by Korea Ginseng Corp.. Five female baduk players each from Korea, China and Japan participate in a ring contest to determine the winner.
- Doyoon Lee, Cyberoro.com