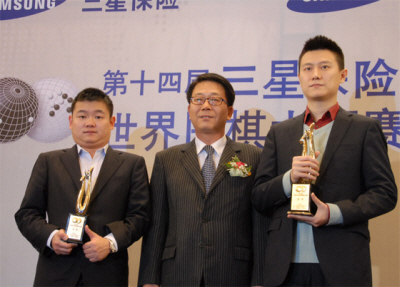 In the game 2 of the 14th Samsung Cup best-of-3 final held in Central Hotel Shanghai, China, on Dec. 17th, Kong Jie 9p, Chinese ranking No. 2 player, defeated Qui Jun 8p, his fellow player of his age, by resignation after 157 moves and won his first world Baduk championship in major Baduk tournaments by the perfect game score 2:0.
In this final, which was the 5th final match fought between Chinese players, Qui Jun was expected to fight against Kong Jie in a very tough way after defeating Lee Changho 9p in the semifinal. On the other hand, the final ended up not as tough as it was expected to be as Kong Jie 9p won whose record against Qui Jun 8p was prevailing by 14 wins and 4 loses.
The match between the two players who faced each other first time in this year at Samsung Cup World Baduk Masters Championship ended up Kong Jie 9p winning by the perfect game score of 2:0. At this championship, Kong Jie 9p made it to the final after defeating Lee Wonyoung 1p (Amateur 7 Dan at the moment), Yamashita Keigo 9p, Park Younghoon 9p and Gu Li 9p and then also defeated Qui Jun 8p as well, the player with the same nationality as his by the perfect game score of 2:0. As Kong Jie 9p won the championship, he became the 3rd Chinese Samsung Cup World Baduk Masters Champion after Luo Xihe 9p (the 10th) and Chang Hao (the 11th).
Kong Jie 9p got promoted to 9p as he defeated Lee Sedol 9p and won the Asian TV Cup Championship in last June. As he won the Samsung Cup World Baduk Masters Championship at the end of this year, it has been the best year for him. Kong Jie 9p is expected to be become Chinese ranking No. 1 as it is announced as of Dec. 31 every year.
The prize for the winner is 250 million won and the prize for the runner-up is 70 million won.
- Kyungdong Kim, Cyberoro.com