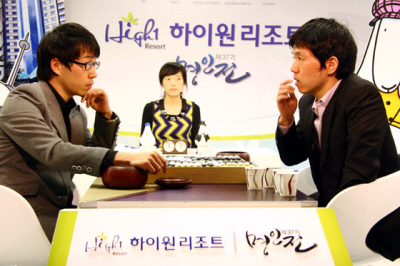 True to His Reputation, Lee Changho, Myungin, Returned!
Lee Changho recaptured the Myungin Championship by the total score of 3-1 as he played black and defeated Won Sungjin 9 Dan by half a point in the 4th game of the High 1 Resort Cup Myungin Championship final match, held in Baduk TV Studio of Korea Baduk Association.
It was Lee Changho 9 Dan's original slow pace. In the beginning of the game, Won Sungjin 9 Dan was leading in terms of profits until about 100 moves. Baduk Journalists who gathered in the place also made a careful prediction saying that white's unfailing victories would be continued in the 4th game because each winner of all three previous games was leading in terms of profits.

Won Sungjin 9 Dan also made an estimate similar to the journalists'. He expressed his unsatisfied feeling about his excessively optimistic view which he pointed out to be the main cause of his defeat of the game where he was leading all the time by saying "in the beginning of the game, the situation on the board was all right because I had a lot of profits. It was my fault that I overlooked black's territories in the center. I should've gone deeper into the center."

Lee Changho 9 Dan won his 13th Myungin Championship that is the biggest number in the history of the Myungin Championship. He has been holding the Myungin Championship title for 6 consecutive years until 2003 but he also has a bitter memory of stopping his consecutive holding of the title as the competition was defunct from 2004 to 2006. Facing the Myungin title he recaptured after 6 years, he showed his delight of winning the title with a bright smile, saying "the 4th game was also a difficult board of Baduk. It feels so good that I came to win a championship after a long time."
Lee Changho 9 Dan, who extended his title-winning record to the 136th title by adding the Myungin Championship to it, tasted the glory of his second national championship in this world after the KBS Cup Baduk Wang Championship in last March. Winning the Myungin Championship added the prize money, 100,000,000 won to his total prize money won this year, which is expected to be more than about 500,000,000 won at the end of this year.
воик The Final Result of the 37th Myungin Championship Final 5-Game Match
W Lee Changho 9P B Won Sungjin 9P - 196 moves, White won by resignation!
W Won Sungjin 9P B Lee Changho 9P - 280 moves, White won by 1 and half points!
W Lee Changho 9P B Won Sungjin 9P - 329 moves, White won by 3 and half points!
W Won Sungjin 9P B Lee Changho 9P - 264 moves, Black won by half a point!

- Kim Sangwoo, Cyberoro.com