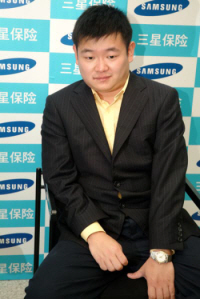 Qiu Jun had a short mutual interview whose final match was secured as he won the semifinal 3-game match over Lee Changho 9 Dan on Nov. 5 Dan. Qiu Jun expressed his impressions by saying "I'm excited."
- How are you feeling? What are your impressions as you made it to the final winning the match over Lee Changho. What are your impressions?
"I didn't know I would win. I'm delighted and excited. I am impressed that I won."
- What was the cause of the victory?
"First of all, I was lucky. And, Lee Changho 9 Dan didn't seem to show all abilities he has."
- Did Lee Changho 9 Dan make a lot of mistakes?
"There is no way he can make no mistake at all. But, it seemed that he made more mistakes than before."
- People close to you must be pleased. Who do you think is pleased the most?
"My mother, father, wife and teacher will be very pleased. The staff members of Chinese Go Association will be pleased, too."
- What do you think about Kong Jie who you will face in the final match? Are you confident in winning the championship?
"I haven't thought about it. I am not confident in winning the championship."
The final 3-game match will be held in Grand Central Hotel in Shanghai, China for 3 days on Dec. 15, 17 and 18. The Samsung Cup World Baduk Masters Championship tried to become a 'perfect open championship system' from the 14th competition. The winning prize is 250 million won
- Byungjun Choi, Cyberoro.com