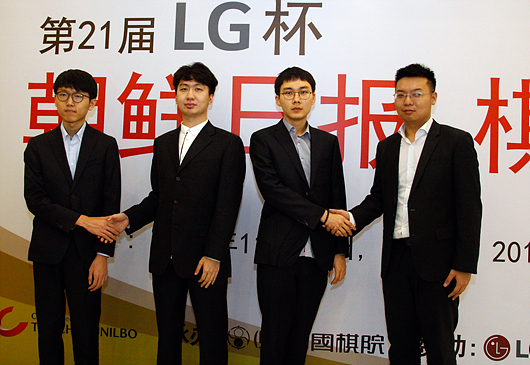 Park Junghwan and Shin Jinseo are in the round 4 of LG cup, competing with 2 Chinese players Dang Yufei and Juo Luiyang for the trophy. In the round 8, Park Junghwan and Shin Jinseo won each against Guli and Meng Tailing.
Park Junghwan led the game from the beginning agianst Guli, but he had a critical moment in the middle game. But Park 9P showed better reading skill and destroyed all Guli 9P's territory and won.
Shin Jinseo 7P finished the game for the first one against Meng Tailing. Shin 7P showed great game leading from the beginning to the end.
Park 9P said in the interview that Juo Luiyang 9P is very strong, I will prepare by reviewing his games and will make myself to be prepared fully.
Shin 7P said in the interview that I could win from Meng 7P's mistakes from the beginning. I will prepare my condition to be best and do my best.
Dang Yufei 7P said that I lost two games against him and he hardly lost recently. But I don't want to lose this great chance, will do my best.
Match up for round 4
Park Junghwan vs Juo Luiyang
Shin Jinseo vs Dang Yufei