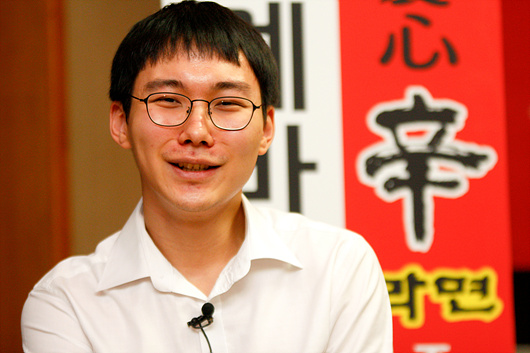 Park Junghwan 9P took first win for Korea in Nongsim cup today.
Park Jungwhan 9P won against Pan Yingyu 9P who was winning 7 wins in a row by resign with white. By this win, Korea was out of shareful situation as all 5 players lost against 1 Chinese players in Nongsim cup this year.
Park 9P took only territories which was effective strategy as Pan 9P likes territory a lot. But Park 9P's weak group on the right side was suddenly killed and looked very dangerous. But he got return and kill another Pan 9P's group on the upper side, and finished the game.
Park 9P said in the interview that I didn't know I would play in Pusan. I was nervous a lot, but Pan 9P was more than me as he was under the pressure of winning more. The result was good for me when I sacreficed my group and tried to get Pan9 9P's another group.
Park Junghwan 9P should win 5 games if Korea would win this year's Nongsim cup. From China there are still 4 players left such as Pan Yunle, Len Shao, Tan Shao and Ke Jie while Japan left only Iyama Yuta.