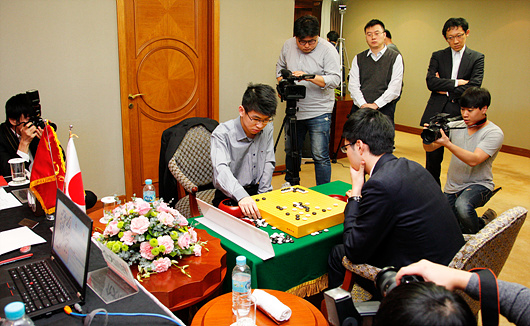 Pan Tingyu 9P is stepping to the new record in Nongsim cup and he won 7 games in a row. Pan Tingyu 9P won against Murakawa Daiske 7P from Japan by resign with black today, and left only 2 players from each Korea and Japan.
Now, It seems to be possible for Pan 9P to finish the Nongsim cup on his own. It is likely China to win this year's Nongsim cup but how they finish it is just question.
Pan Tingyu 9P showed very good game agianst Murakawa Daiske 7P leading the game from the beginning. Hong SungJi 9P commented that It was complicated until the middle game, but Murakawa 7P's one mistake in reading was losing move and that was all.
Next player from Korea is Park Junghwan 9P. Pan 9P said in the interview that I know and poeple know Park 9P is very strong, but I am ready to compete well against him as my condition is the top now.